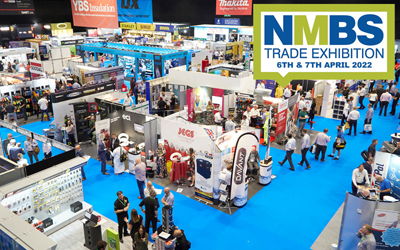 Located on stand 194, Allegion UK will introduce visitors to the new Briton 5700 Series Lockcase, a heavy-duty euro profile cylinder mortice lockcase, ahead of its official launch later this year. Demonstrations for the new product, which offers a comprehensive range of functions, will be available over the two-day event, alongside a display of Briton's flagship door control solutions, including door closers, exit devices and the highly popular Brio Pocket Door system.
The NMBS exhibition is the UK's leading event for independent building, timber, plumbing and hardware merchants - a place where professionals can engage with the industry's leading manufacturers and distributors.
Kirk Smith, Business Development Manager at Allegion UK commented: "The NMBS exhibition is one of our most anticipated events of the year and we're delighted to be back. It's now more important than ever to work together as an industry to create safer spaces and structures, and this year's event is the perfect opportunity for professionals to come together and work towards that.
"Door controls play a fundamental role in protecting people and property and for more than 100 years, Briton has built a reputation of producing high quality, highly engineered hardware products that users can trust. We continue to innovate, and with that, we're extremely excited to showcase the latest addition to our range – the Briton 5700 Series Lockcase. We look forward to welcoming visitors to stand 194 to meet our team of experts and interact with the extended range of Briton door control solutions."
Visitors of stand 194 will also have the chance to preview Briton's new product packaging, following updates to the brand style and the launch of their newly designed, customer focused website: www.briton.co.uk
NMBS will be offering exclusive product deals throughout the two days. Show attendees can experience live product demos and learn more about the full range of Briton products at the Allegion stand. For more information on NMBS, or to register for the event, visit: https://www.nmbs-exhibition.co.uk.
For more information on Briton, visit: www.briton.co.uk. For more on Allegion UK, visit: www.allegion.co.uk.