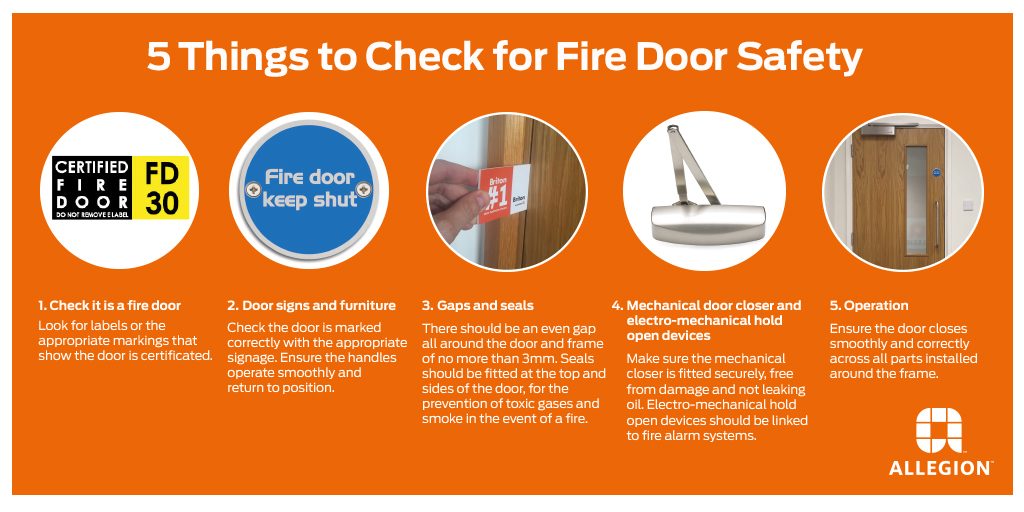 Fire Door Safety is a hot topic at the moment and rightly so. Anyone accountable for the safety of a building's occupants, from facilities managers to landlords, has a responsibility to keep people safe in the event of a fire.

Does your building use fire doors? If so, you're making an essential start towards fire safety. But it doesn't stop there.

It's imperative that the responsible persons in your building are making necessary inspections to ensure that fire doors are operating correctly. Without these checks your doors could be obsolete, posing a risk in the case of an emergency.

The great news is that fire door safety checks are simple to do, so just follow our five-step guide below!

1. Is it a fire door?

Firstly, it's important to make a simple check that your door is in fact a certified fire door. To do this, look for a label or the appropriate markings that show the fire door is certified.

The BWF-CERTIFIRE label is your way of confirming a door is certified. A BWF label should never be removed, so if your door is missing a label, the likelihood is that it's not certified. However, in the case of an accidental removal of the sticker you must provide evidence that the original door had been previously certified by the manufacturer if you are seeking a replacement label.

2. Check for door signage

Once you've confirmed your door is a fire door, you should check for additional signage and smooth operation. Appropriate signage such as the 'fire door keep shut' sticker should feature. Signs should be clearly visible and easy to read as such information could be crucial in an emergency.

Furthermore, you should check your door furniture is operating correctly. Check the handles of the door and make sure they operate smoothly and return to their original position fittingly.

3. Gaps and seals

One step that is commonly overlooked is a gap and seal test. A fire door should possess an even gap around the door and frame of no more than 3mm. If your door exceeds this measurement then it's unlikely to work effectively in the event of a fire as flames and smoke are able to spread quicker.

Additionally, the seals on your door should be fit at the top and sides in order to prevent toxic gases and smoke getting through. A fire door should be fit with an intumescent seal to prevent access points for smoke around the door edges. Use our free fire door hardware checklist and gap tester to help check if you comply.

4. 'Hold open' devices

The next step involves checking your electro-mechanical hold open devices.

Make sure that any electro-mechanical hold open systems are actively linked to fire alarm systems. A device such as an electro-magnetic closer is one of the few ways a fire door can be held open legally. Once a fire alarm is sounded the device should immediately release and close the door fully into its frame.

5. Operation

Lastly, ensure your door is operating as it should be. Your fire door should close smoothly and correctly across all parts installed around the frame. This will allow for ease of access or exit for people within your building and could prove vital in a fire situation.

These simple checks could help save lives. A fire door that does not pass the checks listed above may not function correctly in the event of a fire.

If you do suspect that one or more of your fire doors aren't meeting the required standards then please seek professional advice.

If you have any questions about how to check your fire doors, please consult an Allegion expert on 0121 380 2400, or visit Allegion's Fire Door Safety web page at https://www.allegion.co.uk/en/fitbritonandstaysafe.html